SERVICE & REPAIR
CentriTEK offers high quality service and repairs for all manufacturers of horizontal decanter centrifuges for all customers and industries.
Our specialty is the service of machines manufactured by Centrisys Corporation though we have always offered quality & reliable services on all other brands which include: Alfa- Laval-Sharples, Andritz, Bird, Flottweg, HAUS, Pieralisi,  Westfalia etc.
From complete overhauls to simple field service jobs, our location is well suited to service customers not only within the Unites States but all across North America, the Caribbean and Pacific Islands.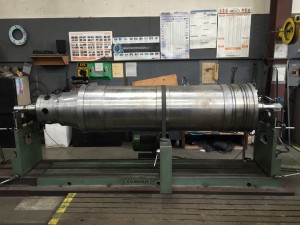 SALES & PRODUCTS
CentriTEK is proud of its independence and expertise in servicing and supporting all brands and industries using decanter centrifuges.
We do not maintain any single relationships with one manufacturer, we maintain relationships with those that offer equipment that is best suited for our clients and their specific applications.  The integrity of the OEM is of the highest importance to us.  We strongly believe in those companies that stand behind their equipment and performance through the entire life cycle.  Each manufacturer has a niche as well as specific design, performance and application experience which ultimately will be best suited for each customer.
For customers looking for an alternative to new, we offer a program where we can supply any model used or remanufactured to OEM standards to match existing equipment and budgets.
Control and scroll drive retrofits are very common options to purchasing a new / remanufactured piece of equipment.  Most times, the heart of the centrifuge is good and all that is required is an improvement of an outdated control or backdrive system.
Reach out on your next project and ask how we can help!
TRAINING & OPTIMIZATION
CentriTEK understands process and machine design.  From our experience servicing all brands and designs, our expertise allows us to see personality in every machine….the good and the bad.
We pass this experience to our customers through classroom and hand on centrifuge operations training.  Field service jobs are always integrated with training for both operations and maintenance staff.
Maintaining regularly optimized machines and well trained operation and maintenance staff saves money.